Blending teaching with technology – the new language of communication.
English is the 'lingua franca' or the global language of expression and communication. To equip future generations to connect globally, the lingual command over English is a necessity. English is a compulsory subject for school level education – primary, secondary, and higher secondary- especially in countries whose native language (first language) is not English. An English teacher should be proficient in grammar (structuring of words) and vocabulary (awareness of different terms), with a deep understanding of semantics (the meaning of the word), pronunciation (how to say the words), and phonetics (how the word should sound).
Despite an uphill task to motivate children to learn a second language, the self-realization among learners about the importance of English in their personal growth makes it relatively easy. Unfortunately, the pass percentage of vernacular medium students in the English examination is relatively low, reflecting a gap between the expected and the reality. Priority towards 'theoretical' teaching is robbing students of the practical application: contextual-based communication. The learners are unable to grasp the nuance of the language, leaving them stuttering or speechless during a conversation or a test.
"Inability to converse in English leads to low self-esteem and the blame-game on teaching and teachers," says Assistant Professor Dr. Rupal Thakkar, an enthusiast educator at Somaiya Vidyavihar University. She has spearheaded a project to empower Secondary School English teachers of Vernacular medium with Information and Communications Technology (ICT) assisted instructional support (Scaffolding). She received a grant of 7 lakhs from the Indian Council of Social Science Research (ICSSR) for this endeavor and completed it in 2 years. The investigator developed need-based Technological Pedagogical Content Knowledge (TPACK) modules enabling a blended approach of teaching-learning sessions. The idea was to replace rote memorization of English texts in classrooms with interactive & participatory sessions using online tools.
Dr. Rupal worked on Mixed Embedded Experimental Research Design, relying on both philosophical assumptions and quantitative inquiry. A pre & post-project survey helped to evaluate the (i) belief and willingness of teachers to adapt TPACK approach (ii) impact of ICT on the teaching culture (iii) the support-role of blended approach in subject delivery and learning outcome. All the teachers embraced the TPACK pedagogy and were able to enhance their teaching-learning experience.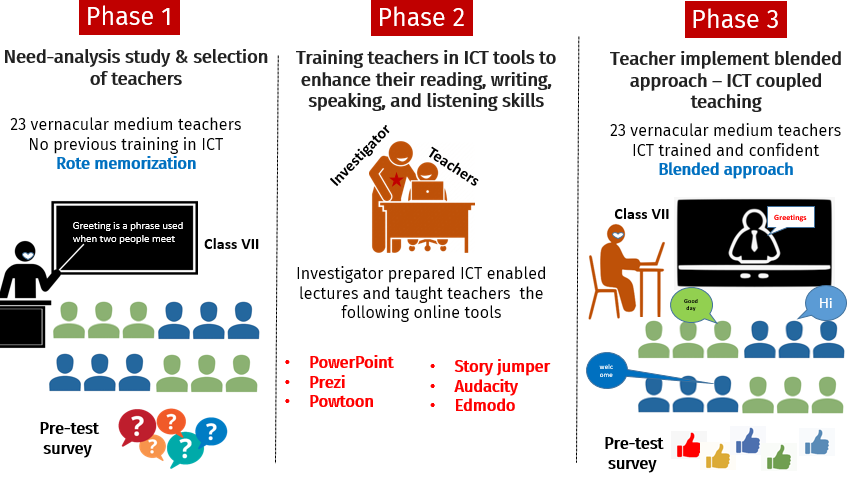 Technology has been insidiously ingrained with our needs, the way we live, behave, and communicate. ICT enabled educational pedagogy will enable curriculum planners, instructional developers, and educational institutions to create new learning experiences and a confident breed of learners.
---
Research Coordinator-SIRAC
Published on: 29th June 2020